Rurbanization in Gujarat – early signs of success
2 mins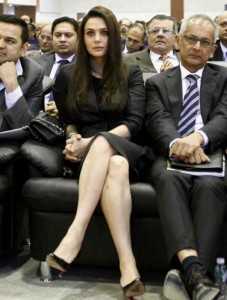 In the run-up to the highly successful Vibrant Gujarat Summit in Jan 2011, Gujarat's Chief Minister (Narendra Modi) participated in a panel discussion on the topic, Rurbanization – Changing Face of Modern India. Other panelists included entrepreneurs in the healthcare sector, bureaucrats, and journalists. I was unable to find a working video url for the entire panel discussion but I did locate this Youtube video which included Modi's talk on the panel discussion.
Against the background of the migration narrative and various initiatives like Rural BPOs and village tourism, Modi's talk provided some very interesting insights.
Rurbanization is a fairly new term since Google prompts you with Did you mean

urbanization

? Modi defines it in Hindi as Gaon ka atma, shahar ka suvidha. Translates to soul of a village and the facilities/amenities of the urban town.
Gujarat's award-winning Jyotigram Yojana scheme, completed in a record 30 months in 2006, delivers 24 hours of uninterrupted electricity to all 18,000 of Gujarat's villages. According to a recent socio-impact study released by Sardar Patel University, this scheme alone reduced the migration rate (from villages to towns) by 33%. Wow!
Every village in Gujarat has broadband connectivity – apparently the only state in India with this distinction. Setting the stage for long-distance education which is expected to make doctors and teachers stay back in villages.
Evaluating a model of creating large schools (KG through 12) for rural Gujarat with free transportation and free food in the middle of a cluster of 10 villages to bring economy of scale.
Cited an example of mirchi farmers mired in a double-whammy of problems – surplus harvest would leed to a drop in prices and deficit harvest would not put enough money on the table. An innovative farmer entrepreneur transformed his 18-lakhs business of selling hari-mirchi (green chillies) to a 3 crore business of selling lal-mirchi powder (red chilly powder). Overarching theme is that

value addition

in agriculture is an absolute must for farmers to bring about prosperity.
Concrete plan for Gujarat's rurbanization involves the selection of 50 towns and setting up a virtuous cycle starting with the setup of waste water treatment plants and solid waste management projects in these towns. The treated water from towns and villages would be distributed to nearby villages for irrigation and the solid waste used to make fertilizer. Increased water for irrigation is expected to increase the farmers' yield but the boldest aspect of the plan is to make organic farming a focus and target organic produce for export to global markets.
We will be watching the progress of Gujarat's rurbanization with more than an idle curiosity.