A monster in the making: the Babajob story
6 mins
[Editor's Note: Last week, I drove down to Richmond Town, Bangalore to interview Sean Blagsvedt, Founder & CEO of Babajob. Babajob's office is in the 3rd floor of an apartment-style commercial building opposite the Hockey Stadium. Over a delicious cup of cappuccino and a cozy rooftop setting, Sean opened up on how he got to Bangalore, why he'll probably never leave Bangalore, Babajob's backstory, their growth drivers, business model, fundraising, and partnerships.]
Backstory & Evolution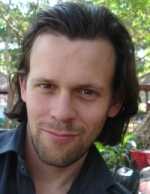 Launched in 2007, Babajob is the leading job site for urban India's informal sector – think professions like cooks, drivers, cashiers, security guards, delivery helpers, etc. In 2004, shortly after Microsoft Research had decided to open an office in Bangalore, Sean managed to persuade the Redmond powers that he should be part of the founding group. Sean's chance perusal of a Duke University research study on poverty alleviation (reviewed in detail in this post) provided an Aha moment — that the primary path out of poverty was income diversification by securing another job. The study also identified that successful income diversification involved 'knowing somebody' with access to information about the jobs. Thus was born the idea for a "Village LinkedIn" which gradually morphed into BabaLife.com – a social networking companion site to Babajob.com.
Babajob initially started off with a focus on household jobs (maids, drivers, cooks, etc.), a strong social networking focus (Babalife), and reliance on the Desktop Web. Fast forward four years and they've pivoted on all three dimensions. Firstly, they realized that it's easier to hire someone into a work environment than a home environment. There also are more businesses hiring informal workers than households. Most of Babajob's growth has come from businesses (e.g. "Uninor needing to hire drivers in a jiffy", "retailers needing to suddenly hire cashiers for newly opening chains").
Secondly, Babajob realized that social networking wasn't as central to recruitment decisions as previously envisioned – both for employers and job seekers. Employers (especially businesses) were more interested in filling open positions quickly than in performing elaborate reference checks upfront. For job seekers, it was less proximity to potential employers (and the associated time/transport savings) was a more important factor than whether the job lead came from a relative or friend. A reduced emphasis of BabaLife and a focus on job listings partnerships with India's telco giants are the result of their pivoting on this dimension.
The third significant change for Babajob was to place a greater focus on mobile as the delivery and engagement platform. The original set-up relied heavily on the Desktop Internet. Knowing that most job seekers wouldn't have direct Internet access, they started a "mentor" program in which middlemen would be paid for connecting job seekers with employers. With the increased focus on telco partnerships and direct SMS job alerts that job seekers can now receive (and respond) on their phones, the "mentor" program appears to have outlived its usefulness.
Business Model
Babajob's business model is firing on both cylinders (employers and job seekers). The Freemium model for employers offers free job posts and a whole slew of premium services for more serious employers. The Database Phone Access plan (Rs. 999) gets 6 weeks of access to job seeker contact information and references (limited to 20 job seekers). For high volume hiring, there's the Unlimited Phone Access Plan (Rs. 4,999/month). The No Risk Assisted Search plan (Rs. 2,999), currently available only in Bangalore, is a CPA model where the employer pays Babajob for successful candidates after a 3-day trial period. As added protection to the employers, Babajob provides a replacement if the new recruit leaves within a 2 month period.
Babajob now powers the SMS Jobs category products (for informal workers) for Airtel, Idea, Vodafone, Reliance, and Tata. The value proposition for job seekers who subscribe to the Jobs alerts package (@ one rupee a day) is simple – receive jobs within close proximity to where you live. According to multiple surveys, 25% of the monthly earnings of a daily wage earner/informal sector worker goes towards transport. It follows that a job seeker will switch jobs if offered higher wages or a reduced commute cost.
Market Size & Key Stats
I asked Sean about the size of the market Babajob's playing in and he had a pithy answer: 300 million working age, non-farm, informal sector workers with a mobile in the home. Various studies on India's unorganized employable workforce range from 300 million to 360 million so Sean's market size number is within the range. Interestingly, the size of the migrant population is 100 million – in other words, 1/3 of the informal sector workers are on the move.
Sean shared the following stats on Babajob:
550,000+ cumulative job listings to date
150,000+ active job listings, with net monthly additions of 10,000-20,000
163,000 registered job seekers
1 million job alerts sent to prospective job seekers every month
30,000 employers in roster
Top urban markets are Bangalore, Delhi and Mumbai
The job listings and job seekers growth metrics are healthy but considering that the market size is a whopping 300 million, the 163,000 job seekers number represents early days for Babajob.
Partnerships
The telco partnerships (with Airtel, Idea, Vodafone, Reliance, & Tata) have fueled their job seeker and revenue growth. Babajob gets a 20% revenue-share from the SMS job subscriptions.
Babajob is experimenting with various non-telco partnerships – e.g. micro finance institutions, retailers and payment/distribution networks.
Babajob was recently adjudged a winner (one among 14 social enterprise winners) of the India Development Marketplace Award. Besides getting a cash award of $50,000, this enables Babajob to expand in Rajasthan, Bihar and Orissa through offline partnerships with NGO's.
Babajob has also entered into a partnership with JantaKhoj Services, a background verification company with expertise in the informal sector. This premium service enables Babajob employers to avail of JantaKhoj's whole gamut of verification services – criminal record check, reference check, employment verification, address verification, driving license, and education verification services.
Fundraising
When Babajob was incorporated in 2007, it was boot-strapped by Sean and his step-father. Subsequently, they did a $200,000 seed round with angels. Sean is now gearing up for a Series A institutional round in the $1 to $1.5 million range.
Revenue/Profitability
Babajob has been profitable for the past year. Sean declined to talk about revenue but here are some rough calculations for part of their revenue. 20% revenue-share on 1 million job alerts per month @ 1 Rupee works out to a monthly run rate of 2.5 lakh Rupees.
Competitors
At this early stage of the informal sector job marketplace, Babajob doesn't have a direct competitor. There's 6-year old LabourNet but it's not a job matching site between employers and job seekers, rather it's a meta-employer offering a whole suite of services & benefits for its workers. Two startups that are on Sean's radar are JobsOnPhone and Assured Labor. The former is interesting because it offers subscription-based job alerts (similar to Babajob) and also allows profile creation through IVR and anonymous chats with the hiring company/consultant. Assured Labor, a New York-based startup with roots in MIT Media Lab, resembles BabaJob the most except that its focus (at least today) is on Latin America – a market similar to India in that two-thirds of the people lack home Internet connections and many job seekers try to find work via word of mouth.
Then there's the big fish – Naukri.com. Naukri focuses on the high-end of the Indian job market of course. There's plenty of growth and competition for Naukri in the high-end and organized job segments so they haven't ventured into the informal sector (yet). Interestingly JobsOnPhone claims some kind of tie-up with Naukri, TimesJobs and ClickJobs.
Management Team
Sean Blagsvedt (CEO)
Vir Kashyap (COO)
Maya Chandrasekaran (Director of Strategic Partnerships)
As I got up to leave, my final question to Sean was: "You moved to Bangalore 7 years ago. Fast forward a few years and let's say Babajob is phenomenally successful. What next? Would you go back to USA?" Barely batting an eyelid, Sean replied: "Quite unlikely. I got married last year to this beautiful woman who thinks Bangalore (no 'Malleswaram') is the center of the world!"