World Bank India Development Marketplace: Finalist Review Part 2
3 mins
[Editor's Note: The World Bank's Development Marketplace (DM) is a competitive grants program that surfaces and funds innovative projects with high potential for development impact that are scalable and/or replicable. This is Part 2 of a 3-part series Part 1 here.]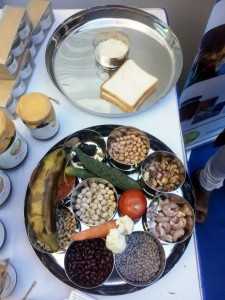 I met two excellent organizations working on agricultural extension yesterday and one of them (Under The Mango Tree – UTMT) didn't fit the classic mold. UTMT had setup an interesting 'entry quiz' in their booth. Have a look at the contents of the two plates (picture to the left) and answer the question "What are the key differences between the two?" There are no 'wrong' answers but UTMT Founder Vijaya told me that nobody answered it 'UTMT correctly'.The basic message is that without the madhumakhi (bee), one cannot enjoy the vegetables, legumes and dry fruits in the lower plate. I learnt that the bee plays a crucial role in the agricultural productivity of the planted crops in the area.
UTMT is a hybrid organization – its society arm works with farmers educating them to switch from bee 'hunting' to sustainable practices and its for-profit creates direct fair-trade market access from farmers to customers. Working primarily with farmers with annual incomes of INR 25,000, UTMT has been able to deliver a 30% increase in incomes through: a) Increased agricultural productivity, b) Sale of honey, c) Sale of beeswax. Four years after starting operations (and backed by US-based impact investor – First Light Ventures), UTMT recently turned profitable. Vijaya and team are now focused on getting the UTMT brand into as many Indian markets as possible. If they haven't hit your geography yet, do try their Beer of the Month style annual subscription.
Aga Khan Rural Support (AKRS), is active in 1500 villages in poverty-stricken areas of Bihar, Madhya Pradesh and Gujarat and has come up with a highly effective organic fertilizer to improving agricultural productivity. Amrit khad and amrit paaniare two deceptively easy-to-produce low cost fertilizers made from just six ingredients – besan (chick pea flour), jaggery, cow dung, cow urine, neem leaves, and water. Use of these fertilizers reduces the cost of cultivation by Rs. 2000 per hectare, significant savings for poor tribal farmers.
AKRS is also providing opportunities for poor tribal women to increase their income by selling these fertilizers to other farmers. AKRS was seeded by the Aga Khan Foundation but now 70% of its funding comes from government and other foundations. AKRS has vertical specialists in these areas – water management, crop advisories, livestock, and women's empowerment. Approximately one specialist for every 40 villages.
What's India's largest manufacturer of writing and printing paper, Ballarpur Industries Limited – BILT, doing in a World Bank Development Marketplace event? Well, to be accurate we are talking about BILT Tree Technology. Since 1989, this BILT division has been using sustainable agro forestry as the synergistic vehicle to improve farmers' incomes and drive its own destiny.
BILT Tree Tech sells saplings from its three large nurseries (growing eucalyptus, casuarina, bamboo and two other species) to farmers on fallow land, facilitating bank loans whenever necessary. Farmers are assured purchase of their pulpwood produce at declared support prices or market price whichever may be higher. About 10% of the farmers end up selling to BILT paper division, a percentage they would definitely like to see increase over time.
To the two young folks who walked me through the different stories, BILT Tree Tech is not just a job. Everytime they succeed in convincing a farmer to plant trees (on forlorn 'beyond redemption' land) and.. 4 years later.. see a fully grown tree plantation, the satisfaction is beyond qualification.
Fascinating stories from Water Life, Operation Asha, Vigyan Ashram and Micro Insurance Academy next — watch this space for these stories and more from the other finalists.
**********
Originally published on the Innovation Alchemy blog. The series continues here.