House of Dignity: Mighty Madiath's Life Mission
3 mins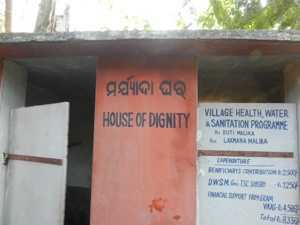 Gram Vikas (GV) is my favorite Orissa organization. Heck, if I ever curated a Top 5 pan-India list, it would probably be in it. When I asked Bangalore's rainwater harvesting guru for his Top 10 list of Indian NGOs, Gram Vikas inevitably made it there. I don't wax eloquent about too many non-social enterprise organizations on this blog – or maybe I do and some of my readers have noticed?
I first learned about GV via Banerjee & Duflo's Poor Economics (see health insights). Quoting from the book, it is possible to provide piped water and sanitation to poor villages at a reasonable cost. He explained to us that in Orissa, water and sanitation are social issues. Madiath (Gram Vikas's CEO) insists that every single household in the villages where Gram Vikas operates should be connected to the same water mains: Water is piped to each house, which contains a toilet, a tap, and a bathing room, all connected to the same system.
GV was a key stop in last year's Jagriti Yatra and won itself a fresh legion of fans (which now includes RBS's Meera Sanyal). She writes in great detail about the House of Dignity – the name GV founder Joe Madith has given to the two-room bath+toilet structure at the heart of Gram Vikas's solution.
On my journey through the villages of India this year, I have found that the solution to every problem one encounters, is to be found somewhere else in the country. However, despite journeying through almost 120 villages across 12 states, I had been unable to find a practical and affordable solution to providing a toilet and tap water to each home.

At Gram Vikas I was delighted to find a team of people with a simple mission and the solution to this problem. In Joe's words "In the 21st century no woman should have to walk more than 10 steps for water, and every home should be a House of Dignity".

The House of Dignity, is the name that Joe gives to a simple two room structure, built behind each hut, comprising of a bathroom and a toilet. Each is supplied with a tap with running water (the Gram Vikas solution comprises an integrated water supply solution based on local water sources).

Behind the House of Dignity, two septic tanks connected by a Y valve are constructed. The toilet drains into a single tank with the Y valve closed. The villagers are encouraged to plant fruit-bearing trees like coconut, banana, lemon etc. around the tanks. Through the process of leaching, the surrounding soil is fertilised, as is evident from the rich crop of fruit. On average it takes about 5-6 years for one septic tank to fill to capacity. The Y valve is then turned to allow the other tank to fill. Within a year the material in the first tank gets converted into humus and can be used as manure. This provides a permanent and hygienic sanitary solution.

The cost of construction including the water supply solution currently averages Rs 20,000 per household. Gram Vikas helps villagers to utilise funds from Government schemes, provides some grant funding but also insists on individual contributions. Another mandatory condition : the entire village has to adopt the water & sanitation solution, which ensures good Hygeine and dignity for all.

The team of Gram Vikas has done yeoman work in Odisha since 1971 in a variety of areas. For Joe and his team this has now become a Mantra : literally the Movement & Action for Transformation of Rural Areas.

For me their work in Water & Sanitation was most impressive – but I was also captivated by the aesthetics of their work, as evident from their beautiful campus. In a state where most tribal homes are a work of art, Gram Vikas fits in seamlessly.