Rockefeller Foundation Innovation Challenge 2012 – Farming, Irrigation and Data
2 mins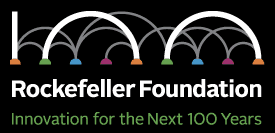 Rockefeller Foundation turns 100 in 2013. To mark its centennial, they are seeking knowledge and innovation ideas that will solve problems for the next 100 years – specifically in the areas of farming, irrigation efficiency, and leveraging data to improve the lot of vulnerable communities.
Fifteen finalists, five in each of the three categories, will be selected by a distinguished panel of judges and recognized at the 2012 Innovation Forum on June 28. They may be invited to collaborate with The Rockefeller Foundation as it builds the Global Engagement Network, a network of problem solvers focused on key global problems. As many as nine out of 15 finalists will be selected by the Foundation to apply for up to $100,000 in grant support to further develop or implement their ideas.
Decoding Data: Ideas that create better ways to address urban challenges through the application of data.
Irrigating Efficiency: Ideas that help reduce barriers—such as lack of investment, incentives, or political will and capacity—to implementing and scaling agricultural water use efficiency.
Farming Now: Ideas that encourage and help young farmers to become more productive, more resilient, and more profitable by addressing cultural perceptions, economic conditions, and/or climate change.
Important Dates
Apr 2, 2012: Open for Entries
May 25, 2012: Deadline for Entries
Jun 28, 2012: Finalists Announced
Aug 2012: Grant Process Begins
Criteria
Innovation Challenge finalists will be those ideas that show the most promise for catalytic innovation, impact, context, and spark. The criteria page has more details.
Other Relevant Details
Challenge entrants may include individuals, organizations, formal or informal entities, i.e. an association, guild, student group, or village. Individuals submitting an idea, hereafter referred to as the entrant, on behalf of a group should be fully authorized by that group to do so.
You can submit more than one entry and, technically, can win more than one challenge.
You will retain all intellectual property rights. Your entry will not be published without your express permission.
How to Apply
More About Rockefeller Foundation
Central historic mission is to "to promote the well-being of mankind throughout the world."
Established the Johns Hopkins School of Public Health and Harvard School of Public Health.
Developed the vaccine to prevent yellow fever.
Endowment stands at $3.1 billion as of 2009.
In 2007, they made grants totaling $137 million.
So… what are you waiting for? Pick up that game-changing world-saving idea that's been collecting dust in your idea archive. Dust it, breathe fresh life into it, burnish it, and submit it. I might just follow my own advice.
Updated: Here's the list of winners announced in Aug 2012.