Corruption Cases in the Indian States – a Visual Story
1 mins
Our good friends at PRS Legislative Services took 10-years of corruption case data (2000-2009) from National Crime Records Bureau and created a very useful visualization using Tableau. I'll start off with some surprising observations before presenting the detailed graphical trends.
The top 5 states, in descending order of total cases registered, are Maharashtra, Rajasthan, Orissa, Punjab, and Andhra Pradesh. The presence of Orissa and Punjab in the Top 5 surprised me.
Bihar and Kerala have the highest conviction rate (78% and 65% respectively) in the ten year period.
The greatest property recovered/seized was from Orissa (Rs. 635 million) and Madhya Pradesh (Rs. 362 million).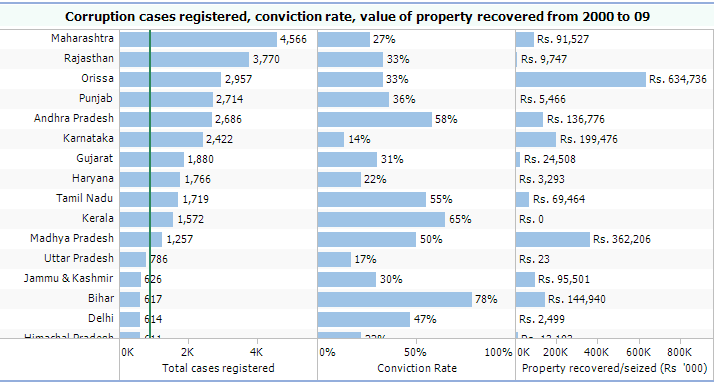 You can play with the interactive visualization here.